Over the years, I have become a more patient person. I believe my kids have been my best teacher of patience, LoL. On that same notion, I've probably made my wife a more patient woman. I guess getting older has slowed me down as well. More recently, photography has slowed things down even more. I have become more aware of my surroundings no matter where I find myself. Ultimately I don't tend to get in a hurry like I used to. Besides, waiting gives you a time to reflect. It gives you time for conversation. It gives you time to notice things that you would have normally ignored. Without getting too philosophical, there are some tangible and more immediate things worth waiting for as well.
As a kid the lines at the roller coaster was not fun, but in the end, I was glad I waited. Waiting to get married and have kids after college was worth the wait. Waiting for my wife to get the joke I just told and hearing her laugh after I've left the room is always worth the wait. Waiting for that roast slow cooking all day is definitely worth the wait. Waiting for food is partly what this post is about.
The shots in this post are a continuation of my outing one Sunday in Nashville. The photos are from the same roll of Kodak TRI-X 400 presented in my last 3 blog posts. As I started walking up 2nd avenue, I noticed a group of people just standing around along the sidewalk not too far from Broadway. I finally realized that these people were standing in a line that stretched further up 2nd avenue. At that point, I could not tell exactly where the line started. Nothing says Nashville like a photo of a performer rocking the mike, so I grabbed a shot of a couple waiting toward the end of the line with said photo.
The line was not moving very fast. However, everyone in line appeared to upbeat and having a good time. As I continued toward the start of the line, the magnitude of the line's depth became apparent.
So what exactly could these people be waiting for? These ladies, gents and families were waiting to eat at the Wildhorse Saloon and maybe waiting to take in a show as well. I've never been inside, but I've heard it's one of the more popular venues in Music City. Below is more information about the Saloon taken from their website.
The World-Famous Wildhorse Saloon is a 66,000 square foot live music and dance destination offering event space for parties, corporate outings and special events. If you can't do it here – it can't be done in Nashville, where we have three floors of action-packed fun, internal capacities reaching over 2,400 and the capability to extend out to Riverfront Park right in our own backyard. We are a restaurant, catering, bar, concert site, dance venue and TV studio—all under one roof.
More than 1.5 million music lovers and catering groups stampede through our doors annually to catch the hottest in live entertainment, learn the newest dance steps and dine on our award-winning Southern smokehouse cuisine and fan favorites like our signature fried pickles and hot chicken.
We are a family-friendly venue in the heart of Music City's downtown district with FREE line dance lessons on the largest dance floor in Tennessee. 
The likes of Darius Rucker, Lady Antebellum, Little Big Town, Rascal Flatts, Etta James, Gladys Knight, Heart, Pat Benatar, Foreigner, 38 Special, Rick Springfield, Big & Rich, Ringo Starr and many more have graced our stage. Artists who have gotten their start on our famous stage like: Ricochet, Lonestar, Lo Cash Cowboys and more currently, season 7 winner of The Voice Craig Wayne Boyd, season 8 The Voice runner-up Meghan Linsey and currently Benton Blunt – contestant on America's Got Talent, still perform with us from time to time.
Our doors opened on June 1, 1994, with a country superstar with a herd of live cattle stampeding through the streets of Nashville to our front doors.  
Since then, we've become a "must do" experience for visitors worldwide as they visit Music City.
Fun Facts
66,000 square feet

Largest per capita restaurant in Tennessee

3000 gallons of BBQ sauce used annually

2+ million pickle slices in our famous fried pickle recipe used annually

4,000+ TV shows and tapings since our opening

Nearly 50,000 T-shirts sold

More than 10 million bottles of beer consumed

Once had a BEATLE on stage (Ringo)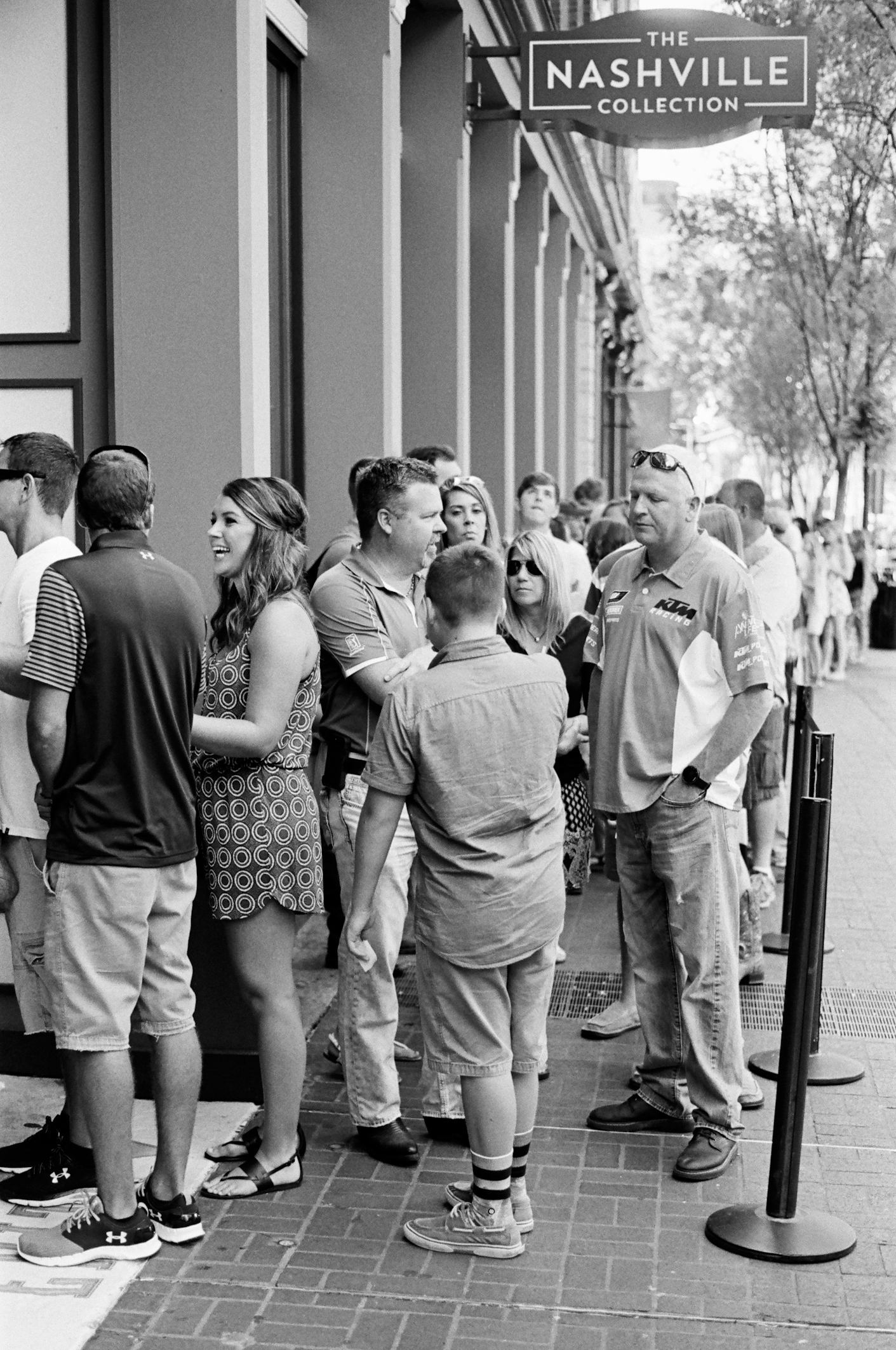 Well, it appears for some, the Wildhorse Saloon is a really cool place to dine and a great place to let loose. I actually met my wife at Graham Central Station which used to be an entertainment complex right next to the Wildhorse Saloon. I guess you could say waiting to marry the right woman was worth the wait, too. Stay tuned for next week's blog post from this same roll of film. I will be posting one of my favorite images from this outing. Thanks for reading!
Images Best Viewed in Lightbox Below!