This blog represents part 2 of my first trial of pushing TRI-X to 1600. I had the intent of shooting the entire roll at night, but I took advantage of an opportunity to shoot a very old home. The images turned out great! You can read about that adventure and see the photos here. Today's blog is about the night shots I made on this same roll. Before we get to the photos, I would like to take a moment and mention how much I love shooting at night. There is something therapeutic about shooting at night. I find it relaxing shooting at any time of day, but the night adds another dimension. It adds a feeling of solitude. It's just my camera and I and islands of artificial light. The darkness itself becomes the dominating character that you have to manipulate to compliment your shot. In someways it's harder to create interesting shots because the light is limited, but it can also be easy because the light is limited. Either way, it is fun finding photographs at night.
What better place to start my first captures at night than in the urban setting of downtown Nashville. My first target of the night was going to be Union Station. The sun was setting as I drove around scouting out potential shots. I wanted to go for something different from what I have seen from others. I knew film would instantly make the image stand apart, but I also wanted to find an angle that wasn't a common shot. After deciding to get a shot of the face of the building, I found a parking spot and started trekking in the direction to get the shot. As I was walking down a sidewalk, I noticed a narrow passage just big enough for one vehicle to pass leading from the sidewalk to the railroad tracks. It was getting dark and I hesitated to walking through the passage which made a good hiding place for a burglar. I slowly with a watchful eye walked through the passage and made it to the tracks. As I started getting closer to the station, I began to see the shot that I wanted. The only problem was that it was getting dark and the only way out of the train yard was from where I came. I had a barbed wire fence on one side and across the tracks was a very tall concrete wall. After taking the shot, I would have to walk back through an even darker path once it was completely dark. With this in mind, I kept walking toward the station along the fence saying to myself that there had to be another way out. I was not going to set up my gear until I knew I had a way out. As luck would have it, I found an open gate in the fence that opened to a parking lot across from some restaurants. This gate was close to where I wanted to compose the image. With a sigh of relief, I found my composition and set up my gear for the shot below.
I left the darkness and the isolation of the tracks for the illuminated and civilized concrete streets. I had a shot in mind that I always wanted to get for my wife. There is an old warehouse building still in use today that has large illuminated letters that spell "CUMMINS STATION". Cummins is my wife's maiden name. I believe she has done a little research and determined that this line of Cummins is not related to her. Nonetheless, she still loves the building and sign.
It took me probably an hour upon arriving at the building before I took my shot. I only have a 55mm and an 80mm lens for my Mamiya. The 55 is equivalent to a 35mm SLR lens and the 80 is equivalent to a 50mm SLR lens. I walked all around this building and up and down the street searching for the right composition. I just could not find anything that worked. There was just too much open dark space the further I was away from the building, space that in my opinion took away from the subject which was the sign. Thus, I headed closer to the building. After some observation and some peeks through the 55mm lens, I found the shot.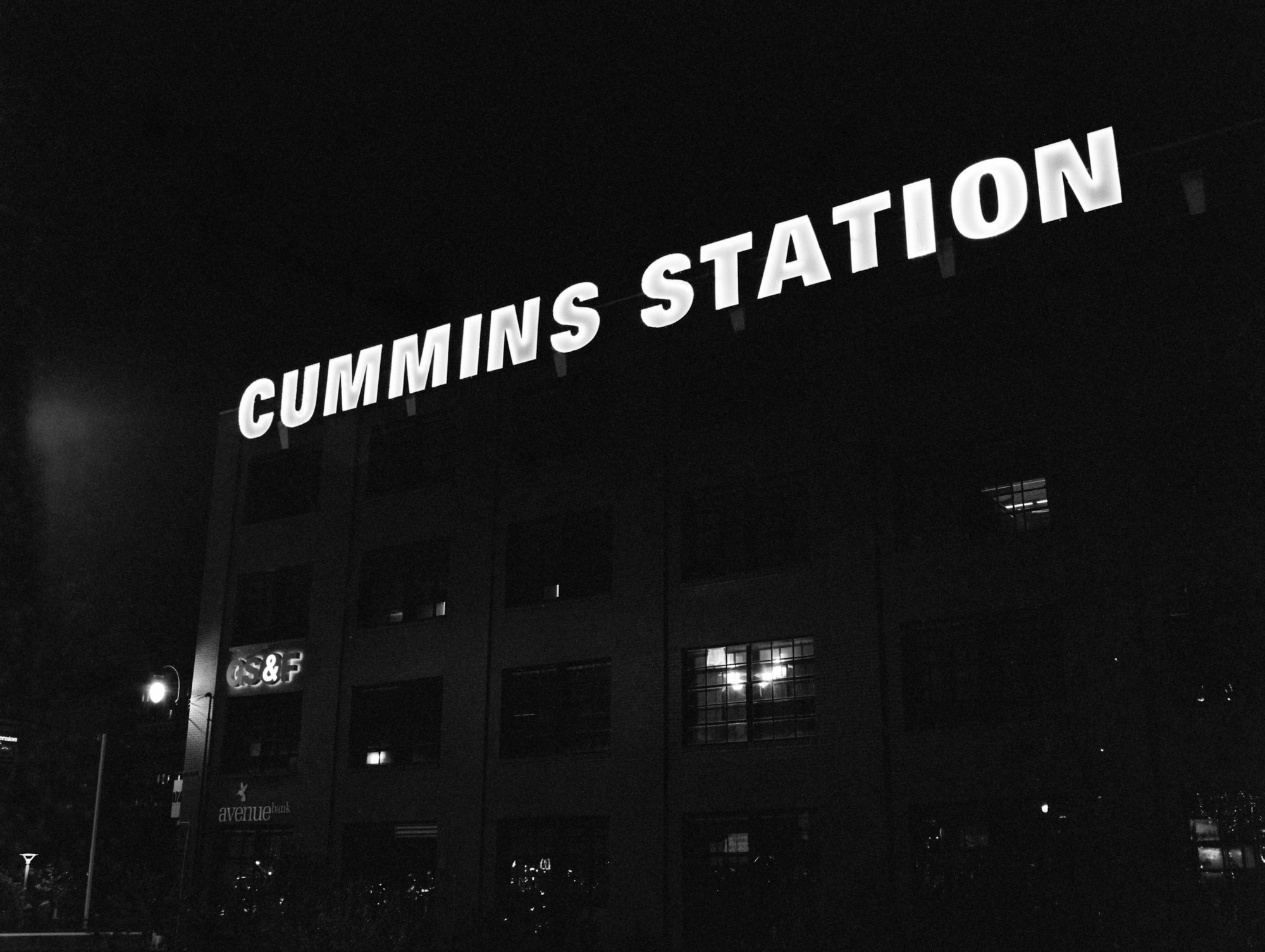 The next two shots are also from Nashville. They were taken on two separate nights. Once again, I was going for an abstract look, a look a bit different than the traditional photos I've seen. I really like how these turned out.
I've photographed this next building numerous times. While passing by one night, I noticed the face of the building illuminated more than I have seen it in the past. This scene would fit perfectly with my current theme, so I came back on another night and grabbed this shot.
I really like these results. View the photos in the lightbox below for the best view! Thus far, I have shot Ilford 3200 @1600 and now TRI-X 400 @1600, each in medium format. You can see the Ilford 3200 shots here. I will have to do some more experimenting to see which I like better. It's good to know that either will render nice images when I need more speed. I will have to try shooting Ilford 3200 at box speed for some street photography at night. I know the grain will be a bit more pronounced in 35mm, but that grain might just add a different look that I might just like. Grain has a way of adding character to a photo unlike noise from digital images. That's one of the main reason's I fell in love with the look of film.
Thanks for reading! Stay tuned for my next post because it will have some digital images that I captured from the same night I took the images in this post. One of my goals while I was out pushing TRI-X was to come away with a digital image from the same night. I really like the digital shots as well.
Images Best Viewed in Ligthbox Below!